NERDCORE!
What is NERDCORE? Nerdcore, also geeksta rap (get it?), is hip hop that deals with important nerd issues such as programming, code, star wars, science, gaming, politics, math, science ficition, and many other geeky pursuits.
Pittsburgh is being graced by none other than MC FrontaLot this Saturday night at Garfield Artworks for a nerdcoreapalooza of sorts. The night will include Building Better Bombs, Seawhores, MC Lars, YT Cracker, and MC Frontalot.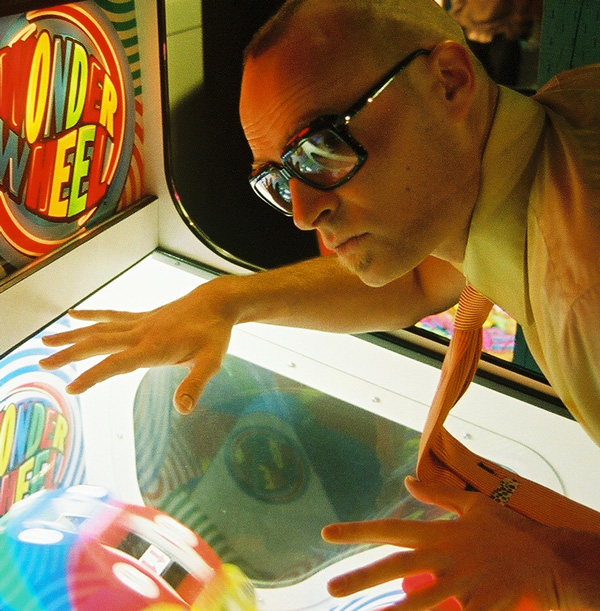 MC FrontaLot photo credit: Sean McPharlin
Garfield Artworks
Time: 7 PM
Price: $10/door (Advanced tickets $8: Eide's Entertainment, Paul's CDs, Wicked Discs, Dave's Music Mine, Slacker, and The Exchange Squirrel Hill)
Bands: Building Better Bombs, Seawhores, MC FrontaLot, MC Lars, YT Cracker
I love MC FrontaLot for rhymes like this – sample from Indier than Thou:
Delving deep into my letterbox when I discovered
fan mail for MC Front. It kind of hovered
before my vision. I made a decision to open it up.
It said, "Yo, Frontalot, you suck!"
Whew! I was worried for a second that I'd started to earn love,
seeing all my indie points burned up.
Next you know, I'm meeting pop stars in stretched cars,
doing the soundtrack for the Wendy's tie-in with Jar Jar,
paying rent on time, owning things,
suing Napster with my best friend Sting.
It's like a nightmare (yep), 'cause that ain't nerdcore (nope).
Yes, I'm indier than thou within my nerdcore flow.
And if you're slow on the uptake, I'll lay it out:
hipsterism is a religion to which you got to be devout.
Must be seen as in between unpopular and hated
or else get excommunicated.
After experiencing Indier than Thou again, I really feel like heading over to Brillobox…
Official Urban Dictionary definition of Indier than Thou: click here!
This is going to be a super fun show that is totally up geekstar's alley! Rap, Rock, and Nerds Galore! I hear Podcamp Pittsburgh will representing too! Podcamp is all things social media and part of geekstar's crew. How nerdier is that to have an entire audience of geeks at a nerdcore show? Heaven!
I'm also excited to see MC Lars. My good friend, Walt Ribiero, wrote some of the string arrangements on his new album. If you're looking to learn music theory or play an instrument, you must check out Walt's site at WaltRibeiro.net. Walt somehow posts daily instructional videos, but you'll see…he is kind of full of energy.
Some MC FrontaLot reviews:
Miami New Times
"The beats are tight, the production is crisp, and most of the hooks are catchy pleasures that rattle around like "Loser"-era Beck."
Time Out Chicago
"Frontalot, the bald and pasty San Franciscan who coined the term nerdcore, is the catchiest and funniest musical comedy act we've heard since Tenacious D."
You can follow any responses to this entry through the RSS 2.0 feed. You can leave a response, or trackback from your own site.